Our campaign for Lieutenant Governor received a major boost today with an official endorsement from one of the most active and effective conservative organizations in Texas.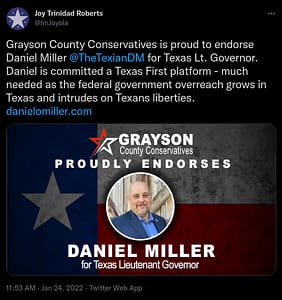 In a tweet sent by Joy Roberts from Grayson County Conservatives, the organization announced their endorsement of our campaign to take Texas back and win the Lieutenant Governor's race. Citing our commitment to Texas First principles in the face of federal overreach, the endorsement is yet another sign that we can win with the support of grassroots organizations and committed Texans across the state.
Watch Daniel Miller's speech to the Grayson County Conservatives from early in the campaign below.