In an astounding campaign development, the Coastal Bend Republican Coalition (CBRC) has rescinded its endorsement of Lt. Gov. Dan Patrick and issued it to top challenger Daniel Miller.
A very influential, liberty movement political organization of the Corpus Christi metro, CBRC awarded their endorsement of Patrick last January after deliberations by their endorsement committee. However, Daniel Miller was already booked by CBRC to appear at one of their regular community meetings for February.
Miller appeared at a packed house last night at Texas Mesquite BBQ & Grill in Corpus Christi. The result of his first and only appearance before CBRC was the immediate switching of their endorsement from Patrick to Miller in less than 24 hours. 
DMC2022 woke up this morning to this communique from Suzanne Guggenheim, founder, and leader of CBRC:
"Last night we were honored to have Daniel Miller, candidate for Lt. Governor, speak to our group. If we had heard from him earlier, we feel sure our endorsement committee would have unanimously chosen him to endorse.
He explained how Dan Patrick has ceded a lot of the Lt. Governor power back to Abbott – and how Dan Patrick played a role in ensuring our latest legislative sessions were set up for failure. He explained the property tax elimination plan in simple language, directly answered our pointed questions, and supports all of our interests. Mr. Miller's insight, knowledge of Austin antics, and his willingness to stop the political games is what we've been seeking.
We would like to ask the endorsement committee to rescind our endorsement of Dan Patrick and endorse Daniel Miller."
Guggenheim then added:
"Daniel Miller is now officially endorsed by the Coastal Bend Republican Coalition".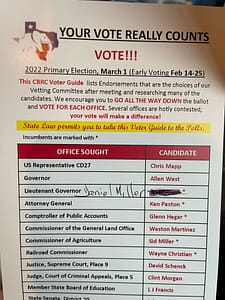 A statement from Daniel Miller:
"This may be one of my most joyous days in the entire history of my activism for Texas liberty. Everyone associated with the campaign is full of gratitude to Suzanne Guggenheim and CBRC. We cannot recall the last time something of this magnitude has occurred in Texas GOP politics.
"To have such a respected grassroots organization recognize within one presentation the superiority of our policies, solutions to the legitimate problems Texas is facing, and the viability of our campaign speaks powerfully to the momentum we truly have going into Election Day. Our optimism is parabolic at the moment."
As of this morning, the activists of CBRC are literally gathered at their headquarters editing their thousands of printed area voters' guide. They are scratching out the name of Dan Patrick from the guide and entering the name of Daniel Miller by hand.
The Dan Patrick campaign should be shaken to the core by this Texas-shattering development.